As some people have noticed last week I edit lots of Asda stores across the UK. I have been adding branch specific contact:website as well as brand data (brand=Asda brand:wikidata=Q297410 brand:wikipedia=en:Asda). The stores that didn't already have address data, now should have data provided by FHRS Open Data.
Across the way I've made some mistakes, when I started I was also adding brand social media (contact:facebook=https://www.facebook.com/asda/ contact:twitter=@asda). trigpoint pointed out this is wrong because some (most?) Asda branches have there own social media accounts that would be more accurate, and user agents can still get the brand accounts via wikidata.
Throughout this project I have been prioritising adding the the specific webpage rather than a generic homepage. This has multiple benefits.
The most obvious being users get precise data when they click the link.
Another benefit is that the Asda website supports microdata, to publish metadata.

User agents can use this data to get more up to date or missing data than OSM provides, even though relatively few Asda stores have contact:phone that data is now available and can be used. The same goes for opening_hours, addresses and even the GeoCoordinates.
Mappers can use it similarly to improve OSM.
Data scientists can now easily compare OSM data to Asda data.
While doing this I was careful not to use data from the Asda website, due to copyright concerns. So I ignored opening_hours and contact:phone, this data is valuable and I would love for it to be in OSM but I didn't want to compromise OSM. For addresses I used another source, FHRS Open Data, it is an amazing data set and in my opinion every OSM mapper in the UK should know about it. Using it in OSM has some awesome benefits.
The addresses added to nodes improve navigation.
fhrs:id means user agents can display the food hygiene ratings helping there users decide if they want to visit a given establishment.
Tracking new FHRS Open Data means we can get notified when a new place opens in an area and inform local mappers where to survey and add data to OSM.
The same goes for any invalid fhrs:id in OSM, it can be used to notify us that an establishment may have closed and in that case we can remove it from OSM.
Most of what I have been doing is related to tags and so "invisible", at least to osm.org rendering. However I did add some stores/petrol stations and fix several mistakes along the way, but there is still work to be done.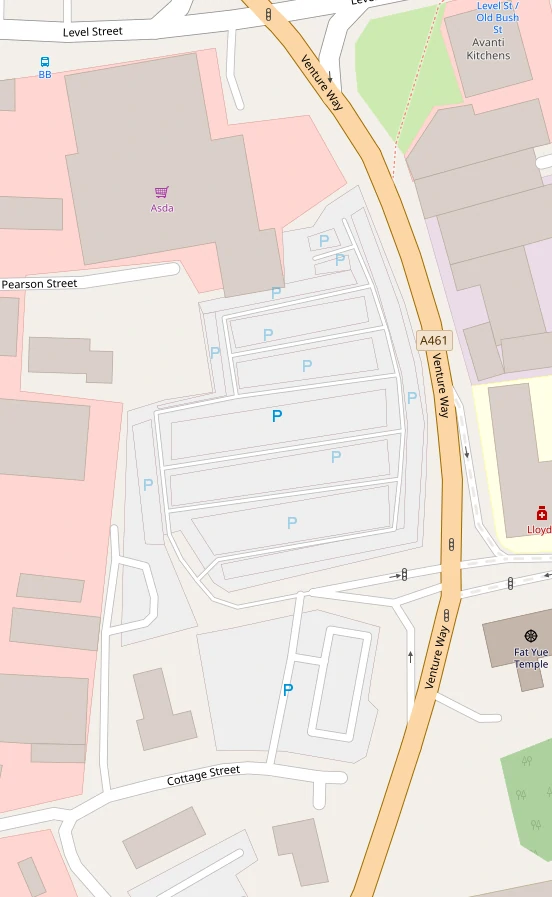 Deleting a bunch of car parks.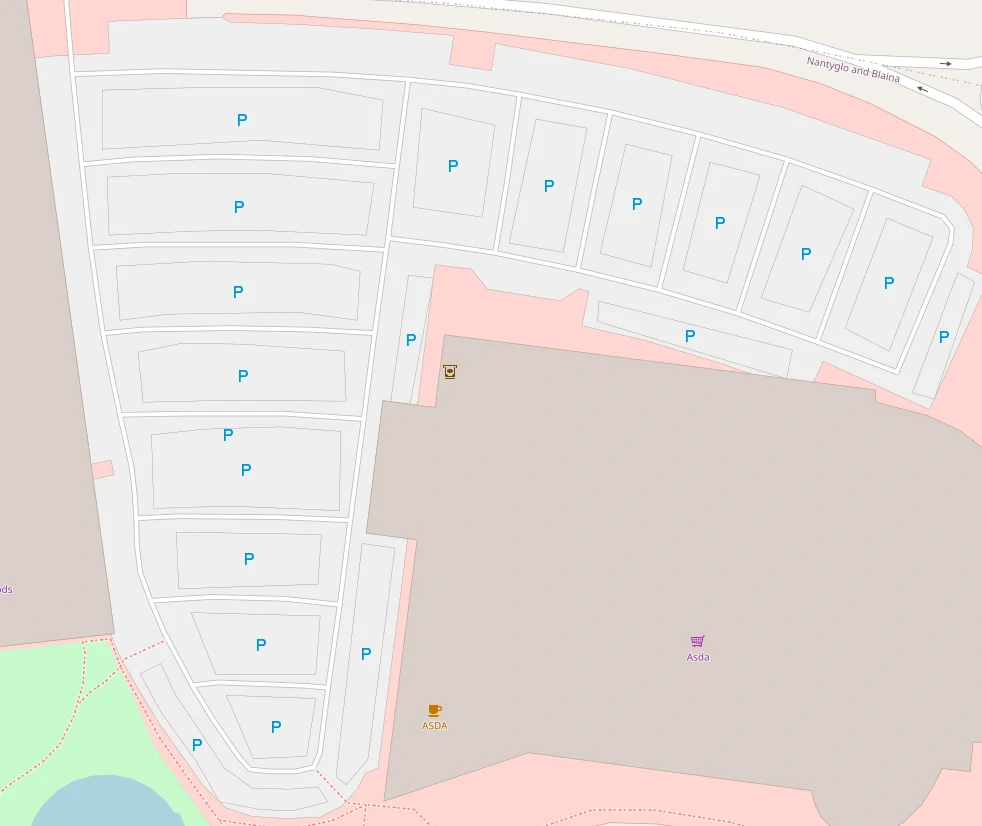 More.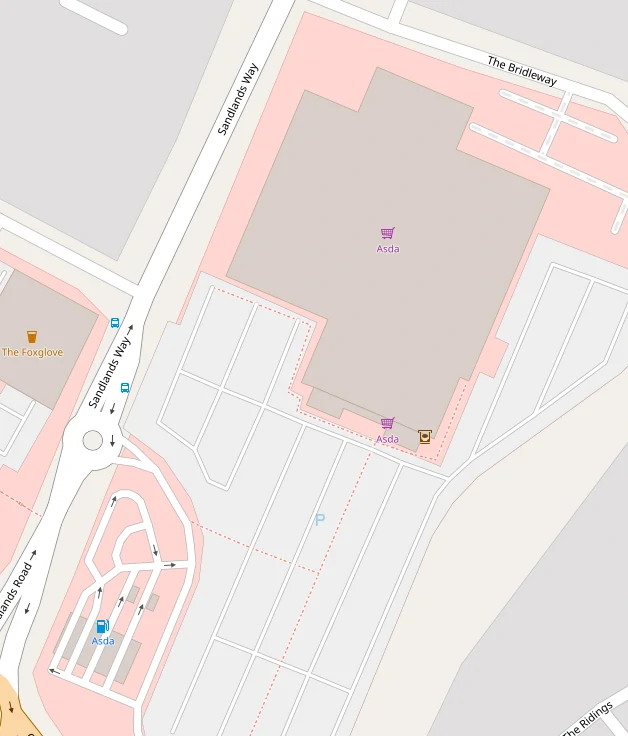 Deleting duplicate stores. I also turned these 2 separate buildings into building:part and added a building outline.
Another 3D building but this time it wasn't even a supermarket.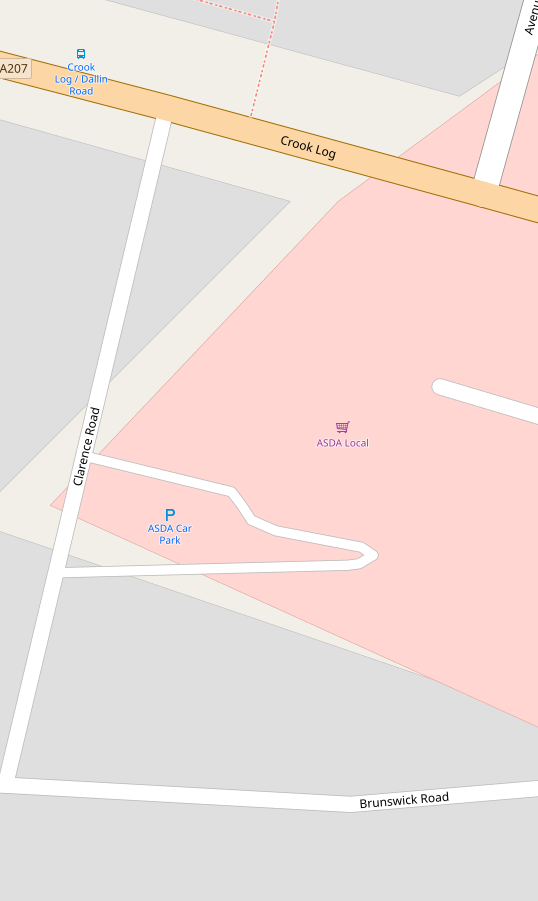 Traced buildings and car parks.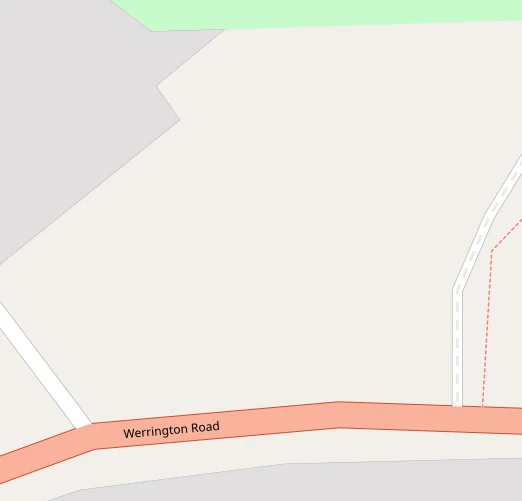 More.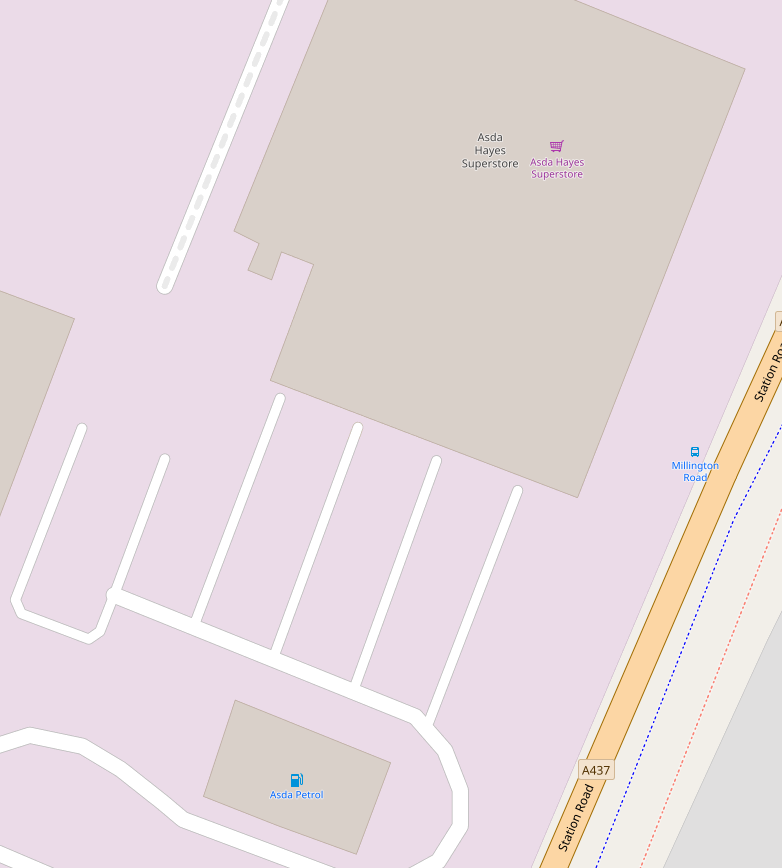 Removing duplicate labels, in this case it was a separate node for a supermarket and a name on building.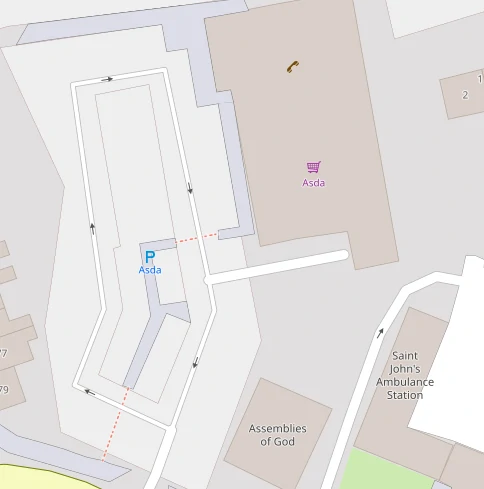 I deleted a car park, moved a name to old_name, and improved tagging of a sub station. The mapper before used areas for the walkways instead of ways, so it looks a bit odd. But I think it's valid.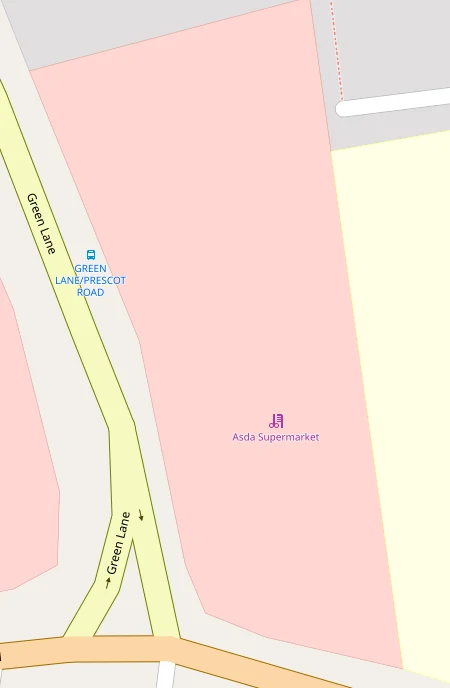 This one was a hairdressers, for 8 years.
During my edits last week I only added FHRS data to stores without address data. So there are still plenty Asda stores without fhrs:id. I plan to go back over the stores and add this, at some point I should also add them to the cafes and pharmacies in stores.
I picked Asda, probably mainly because it's at the top of the alphabet, but also because the wiki said we could use data from their website. I couldn't find a source for that and so I didn't use the data. However while doing this I tracked it down to domdomegg who provided me with a copy of the email that gives OSM permission to use the website data.
I now want to do a bulk programmatic edit of OSM going back over the stores that I manually linked and add opening hours and phone numbers to the stores without them. I wont do this to the amenity=fuel due to there opening hours being a little confusing, it seems to be for the little store/kiosk while some places have 24/7 card only pumps. I could also do it for alt_name to hopefully improve search.
Asda supermarket being: nwr["brand:wikidata"="Q297410"]["shop"="supermarket"]["contact:website"];
Asda Living being: nwr["brand:wikidata"="Q297410"]["name"="Asda Living"]["contact:website"];
I don't think I'm in favour of opening_hours:covid19 but I will use it and then at some point in the future when store opening hours have changed again I will propose another mass edit where I just update opening_hours and remove opening_hours:covid19.
This does mean that every Asda Living store gets a tag of opening_hours:covid19=Mo-Su off.